By Maddie Sievers
If you're new to the University of Illinois, you're about to experience what is hands-down the craziest party day of the year: Unofficial St. Patrick's Day, or simply "Unofficial." You may have heard of this holiday before, but until you've been through it yourself, you won't know what you're up for. As a graduating senior, here are the biggest takeaways I have gathered during my time on campus!
An excuse to buy a T-shirt

Credit: Daily Illini
The first step in preparing for Unofficial, in my experience, has always been to buy a new shirt for the occasion. This is personally my favorite experience, because it's always fun to have an excuse to get a new outfit. Every year, all the T-shirt stores on campus always have new designs and good deals for Unofficial apparel.
Debates about the Chief
Unofficial apparel goes hand-in-hand with an outcry of opinions about the University's former mascot. There is always talk of how inappropriate it is that Unofficial be tied to the Chief, so plenty of buzz on social media and local media outlets surrounding the most infamous debate on our campus is to be expected.
Going all out with accessories
Once you have your T-shirt, I've learned that it's important to deck yourself out in whatever green accessories you can get your hands on. For my first Unofficial, I only wore the baseball tee that I bought that year. I have since learned that the crazier the outfit, the better. Shamrock temporary tattoos, green Mardi Gras beads, hats, crazy socks, and anything else St. Paddy's Day-themed are all fair game.
Major crackdown from authorities
Starting the week before Unofficial, you are guaranteed to get bombarded with warnings from every possible authority figure in your life. Don't think your parents won't know what's going on, either – the University sends a lovely letter signed, sealed, and delivered informing them about "Your Child and the Dangers of Unofficial." Dorms will enact sign-in and sign-out procedures, ban any and all guests, and remind you that this is an alcohol-free facility. Professors will remind you in lectures the week of Unofficial to "be safe." You will receive a campus-wide Mass Mail that reminds you to make smart choices. Expect all of these plus at least ten other warnings.
Buy your booze in advance
So, you've just received a massive influx of warnings about Unofficial weekend. If you, like most people, choose to ignore these warnings and celebrate the biggest and best holiday on campus, it's a good idea to go ahead and buy your booze in advance. This is especially true this year, because Champaign-Urbana is putting in place even more precautions in an attempt to tame Unofficial. In turn, liquor stores may have restrictions in place concerning the amount of alcohol you can purchase.
Way too many green drinks
'Nuff said.
Lots of visitors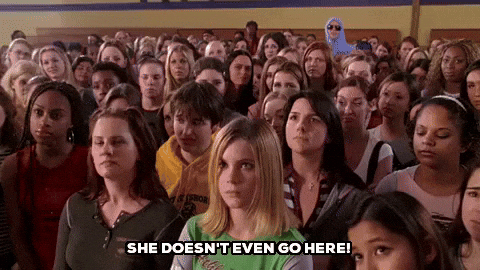 Unofficial is notorious amongst college students from other schools and townies alike, so expect to run into a lot of people that don't even go here.
Avoid the bars
In general, it's just a bad idea to go to the bars on Unofficial. Personally, I've never been because there are so many festivities going on at other places around campus that are far less risky. Cops will be thick and they will be giving out lots of tickets.
You can still go to class
Yes, it is possible to be a good student and still participate in Unofficial. If you have classes the day of, don't feel pressured to skip them. You can go to class and then start the festivities – don't feel guilty for working hard at your GPA!
Pace yourself
With all the binge drinking that will be going on around you, it is easy to get carried away. Remember to pace yourself, always have a buddy by your side, and be safe about how much you consume.
It's okay not to celebrate
That being said, Unofficial does have a lot of risk involved with it. If drinking isn't your thing or you just don't feel comfortable participating, there is absolutely no shame involved with just avoiding it. A lot of students choose not celebrate, and many even go home for the weekend!
Cover Image Credit: Daily Illini 
---