By Indira Midha
As a junior this year, I've watched many of my graduating friends reminisce on their best moments at the U of I and try their best to check everything off their bucket list during their last months here.
For my senior year, I decided to make a bucket list of the things that I want to make sure I experience during my last year here.
Illini Traditions
These are a few of the things that are token "Illini" experiences. These are a few fun things that can definitely connect you to other Illini, regardless of major or background! These are all also great Illini-themed photo opportunities, which we all know senior year is full of!
-Rub Lincoln's nose before an exam in Lincoln theater
-Take a graduation photo with Alma
-Participate in Unofficial St. Patrick's Day
Sports
Okay, the Fighting Illini may not be the best at necessarily winning their sports games, and we may not even have a mascot, but we sure as heck win in the spirit department. You know when it's game-day because you'll see even more of a sea of orange everywhere you look than usual. It says a lot about this school if we're losing and the crowd is still hyped!
-Attend a football game at Memorial Stadium in Block I
-Cheer on the Illini basketball team at the State Farm Center with Orange Krush
-Check out an Illini volleyball game
Bars
So, this one is a bit controversial. Some people love that this is one of the top ten party schools in the country. Some people hate it. Some fall in the middle – myself being included. Regardless of what you choose to partake in, this school screams "work hard, play hard."
-Go to Red Lion on a Saturday night
-Have a Blue Guy at Kam's
-Karaoke at Murphy's
-Finish a railcard at Legends
-Go to Latin night at Joe's

-Experience Thirsty Thursday at Bro's
Seasonal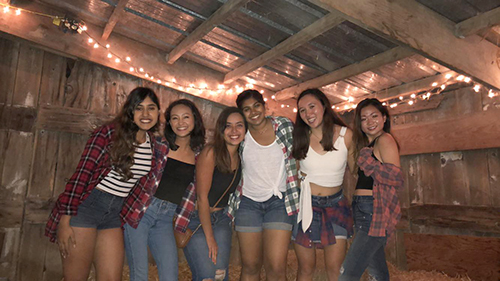 Everywhere there are seasonal traditions, but the ones at this school are pretty fun and scream "Midwest." No matter where you're from, or what kind of place you want to end up after college, it'll be cool to tell your children that you danced in a barn full of string-lights in your college days!
-Attend a barn dance
-Pick apples at Curtis Orchard
-Attend an ugly sweater party
Miscellaneous
There is no real theme to this section of the list – these are just several of the other cool things that this college (and the two towns that it calls home) has to offer. You like live music? There's something on here for you. You miss the deep dish pizza from Chicago? Check. You always want a unique Instagram-worthy photo-op? We've got you covered!
-Take photos at the Sipyard in downtown Urbana
-Attend a concert at the Canopy Club
-See a $10 show at the Krannert Performing Arts Center
-Go to a tea ceremony at the Japan House
-Have a burrito at Maize
-Take a photo with the Humpty Dumpty statue in downtown Champaign
-Go to a student acapella group show on campus
-Have BBQ at Black Dog
-Eat vegan deep dish at Dancing Dog
-Have a picnic at the Boneyard Creek
-Look through the art at the Krannert Art Museum
…
This is by no means a comprehensive list of everything worthy of doing on campus! If you aren't into one, or several, of these sections – that is totally okay! We all have different interests, and not participating in all of these activities doesn't mean that you haven't had a full Illinois experience. These are just some of my favorite things that I've done on campus, or things that I have heard that I need to do before I graduate. I hope that if this post doesn't (at least partially) serve as a bucket list for you, it can be an inspiration to start your own!
---