By Indira Midha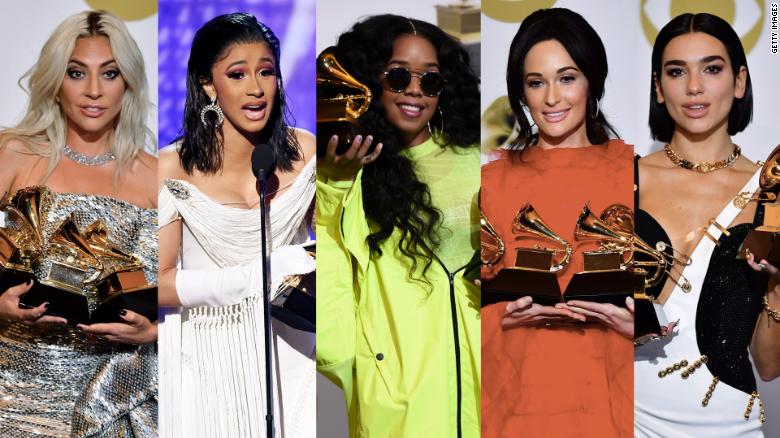 This year's Grammy Awards were highly anticipated due to the amazing year we have had in music. Here are my opinions on the outcome of this year's awards.
Due to the fact that there are so many categories and awards, I will only be talking about the categories that I find myself listening to the most. This post will touch on the general field category, pop, r&b, rap, and Latin.
General Field
   Record of the Year: "This Is America" by Childish Gambino
   Album of the Year: "Golden Hour" by Kacey Musgraves
   Song of the Year: "This Is America" by Childish Gambino

   Best New Artist: Dua Lipa
Overall, this category did pretty well for my liking. However, album of the year was a huge miss this year in my eyes. In complete honesty, I haven't listened to the Kacey Musgraves' album that won because I don't really listen to much country music. I definitely think that the Black Panther soundtrack should have won, and I am surprised that it didn't after the huge buzz it got upon release.
"This Is America," deserved all of the love that it got. It got people talking about a lot of enormous problems in this turbulent time while still being very catchy and enjoyable to listen to. Dua Lipa is a pop powerhouse who churned out endless hits this year, by herself and in collaborations with others. She was definitely deserving of the best new artist title.
Pop
   Best Solo Pop Performance: "Joanne (Where Do You Think You're Goin'?)" by Lady Gaga
   Best Pop Duo/Group Performance: "Shallow" by Lady Gaga and Bradley Cooper
   Best Traditional Pop Vocal Album: "My Way" by Willie Nelson
   Best Pop Vocal Album: "Sweetener" by Ariana Grande
This category got half of it right, I think. Lady Gaga is an absolutely amazing performer, but I don't really remember there being any buzz about her Joanne song. I definitely thought Ariana Grande had that category in the bag with "God Is A Woman." Also, I am confused about what "traditional pop" is because I would never peg Willie Nelson as pop.
"Shallow" was a bone-chilling performance, and I think it is definitely worthy of all of the awards it won. Best pop vocal album also is well deserved by Ariana Grande, but the rest of the albums in that category were also amazing. I definitely loved both Shawn Mendes and Camila Cabello's self-titled albums that were also nominated.
R&B
   Best R&B Performance: "Best Part" by H.E.R. feat. Daniel Caesar
   Best Traditional R&B Performance: "Bet Ain't Worth The Hand" by Leon Bridges and "How Deep Is Your Love" by PJ Morton feat. Yebba
   Best R&B Song: "Boo'd Up" by Ella Mai
   Best Urban Contemporary Album: "Everything Is Love" by The Carters
   Best R&B Album: "H.E.R." by H.E.R.
I am so happy that H.E.R. was such a big winner in this category! "Best Part" is a treasure of a song, and H.E.R.'s voice is phenomenal. "Boo'd Up" is also a wonderful song. I felt like there was so much good R&B this year, and not a lot of it was nominated in this category. Where were Daniel Caesar, SZA, and Khalid?
Rap
   Best Rap Performance: "King's Dead" by Kendrick Lamar, Jay Rock, Future, & James Blake and "Bubblin" by Anderson Paak
   Best Rap/Sung Performance: "This Is America" by Childish Gambino
   Best Rap Song: "God's Plan" by Drake
   Best Rap Album: "Invasion of Privacy" by Cardi B
So, this category was pretty good as well. Although, I definitely felt like Logic belonged in several of these categories. I was surprised that Drake only got one award in this category because "Scorpion" was a very well-received album. I knew Cardi B was going to win something because she took the rap scene by storm this year, but I was surprised that "Be Careful" was the song she had nominated to best rap performance, while not having a nomination to best rap song.
Latin
   Best Latin Pop Album: "Sincera" by Claudia Brant
   Best Latin Rock, Urban, or Alternative Album: "Aztlán" by Zoé
   Best Regional Mexican Music Album: "¡México Por Siempre!" by Luis Miguel
   Best Tropical Latin Album: "Anniversary" by Spanish Harlem Orchestra
This is the category I was thoroughly and utterly disappointed with. I listen the most to this genre, and I had never even heard of the winners of any of these albums except for Luis Miguel. I know that there are separate Latin Grammy because this is a genre of music that is vastly too diverse to encompass in this context. I still think they could have done better with this category, though. I thought Pablo Alborán definitely deserved best Latin pop album for "Prometo." There were so many key players missing from these nominations; this was not a great year for this category.
---