By Riley Corboy
"Our earth is only one polka dot among a million stars in the cosmos. Polka dots are a way to infinity."
Yayoi Kusama. It's a name you might not have heard before, but one that has been busy blazing new trails for over six decades. Kusama is a 90-year old contemporary artist who focuses on surrealism, feminism, sexuality, and psychology through her prolific collection of work. To date, she is aggregately the most expensive living female artist, was the first woman to represent Japan at the Venice Biennale, and has recently been named by Times Magazine as one of the world's most influential people.
Kusama began creating art in her teens as a way to cope with her bipolar disorder and the hallucinations manifested by her schizophrenia. The work containing her "infinity nets" was taken straight from her hallucinations, as a way for her to feel safe and held when things started spiraling. At age 27, she moved from Japan to New York City in order to continue cultivating her craft amongst the sweeping avant-garde movement of the time. There she built friendships with artists like Georgia O'Keeffe, Eva Hesse, and Joseph Cornell, and quickly rose to public notoriety with her controversial pieces.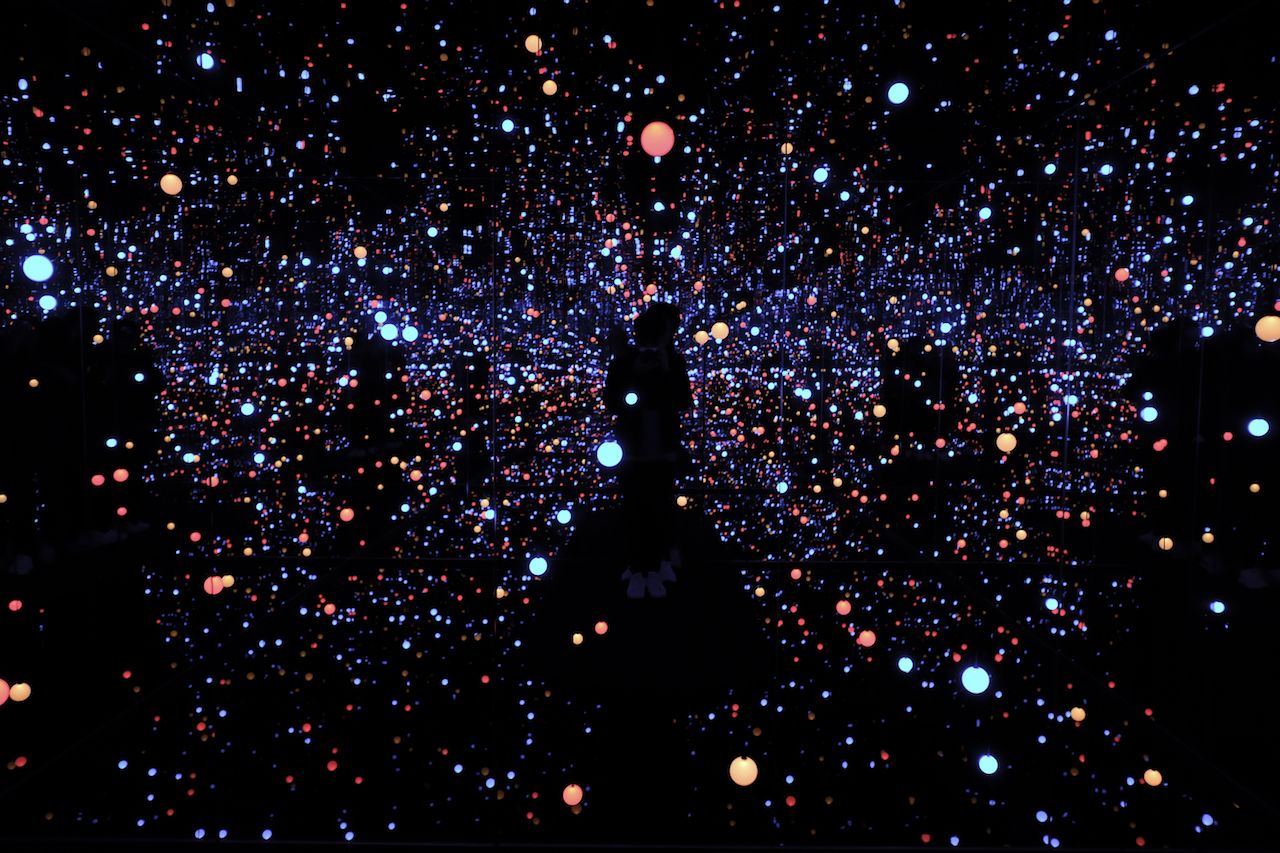 It is difficult to define the kind of art Kusama creates. Her unprecedented creativity spans a number of mediums. She has done work on paper, canvas, and people; there is seemingly no limit for this artist who, in addition to painting, creates sculptures, immersive art installations, fashion, films, books, and performance pieces. During the Vietnam War, she often arranged nude performance events in wildly public spots around New York, out of protest. Around this sametime, Kusama also began creating her mirrored Infinity Rooms (pictured above). These rooms are fully-immersive for the observer and are meant to give the illusion of infinite space; having personally been inside one of these rooms while her work was featured at the Hirshhorn museum, I can unequivocally say that this illusion is accomplished. The experience of being inside is absolutely breathtaking, heartbreakingly peaceful, and one I will never be able to replicate again in my lifetime.
Unfortunately, due to burnout and increasing pressure from her mental health issues, Kusama moved back to Japan in 1973, where she checked herself into a hospital specializing in mental health. To this day, she remains there voluntarily. Don't think this slowed down her career in any way, however. Not far from the hospital is her studio, where she goes every day to work and continues to produce amazing pieces. For her, creating art is as much an essential part of being alive as breathing is. Kusama was once quoted saying, "If it were not for art, I would have killed myself a long time ago." Now, as she enters her ninth decade of life, her career is only continuing to fulminate. In 2017, Tokyo opened the Yayoi Kusama museum and one of her paintings, White No. 28, sold for an astonishing $7.3 million.
---